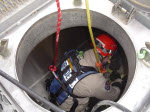 NKH Safety, Inc. has a great deal of experience dealing with all aspects of Confined Space Entry / Rescue. We have well trained, experienced Instructors to teach your staff and/or we can provide you with Confined Space Rescue Personnel and equipment.
Our staff members specialize in this field and our instructors either have been or are currently on Federal USAR teams, Heavy Rescue Fire Companies etc.
NKH Safety, Inc. can also assist you with preparation of comprehensive written Confined Space Entry Program as well as perform documented Confined Space Assessments for your individual spaces.
_______________________________________________
Are you in compliance with 29 CFR 1910.146 "Permit Required Confined Space"
This is one you have to get right, Every Time !!!!
NKH Safety can help you in every aspect of your Confined Space Entry / Rescue Program.
CONFINED SPACE DECISION FLOW CHART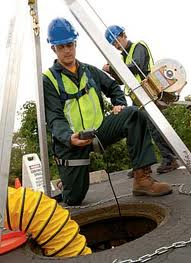 Detailed Services Offered Include:
Company / Project specific written confined space entry programs.
Confined Space evaluations / documentation.

Detailed, written confined space hazard assessments

.

Employee Training

Confined Space Entry
Confined Space Rescue

Confined Space Rescue Personnel for your project

We provide:

A project specific written program
All required entry/permit documentation (completed and emailed directly from the site)
Required rescue equipment
Monitoring / Ventilation equipment
Very highly trained personnel
Many workplaces contain spaces that are considered "confined" because their configurations hinder the activities of employees who must enter, work in, and exit them. A confined space has limited or restricted means for entry or exit, and it is not designed for continuous employee occupancy. Confined spaces include, but are not limited to underground vaults, tanks, storage bins, manholes, pits, silos, process vessels, and pipelines.
OSHA uses the term "permit-required confined space" (permit space) to describe a confined space that has one or more of the following characteristics:
contains or has the potential to contain a hazardous atmosphere;
contains a material that has the potential to engulf an entrant;
has walls that converge inward or floors that slope downward and taper into a smaller area which could trap or asphyxiate an entrant;
contains any other recognized safety or health hazard, such as unguarded machinery, exposed live wires, or heat stress.
Satisfied Customers Include:
Dupont
Cincinnati Bell Telephone
CTS Communications
Seven Brothers Painting
Driekast Piping
CastFab
Central Riverfront Parking
Rodem Inc.
Cincinnati Reds
Acuren Inc.
Banta Electric
Fifth Third Bank
United Services Group
Turnbull-Wahlert Construction
Cincinnati Childrens Home
Schindler Elevators
General Electric Aviation
Arcadis US
Benner Mechanical
Enerfab